Vertical chemical submersible pump
Type series VKPF

ATEX T3
For conveying aggressive, corrosive or solid laden liquids from basins, vessels or sumps. As type series VKP also with intermediate bearings for large immersion depths.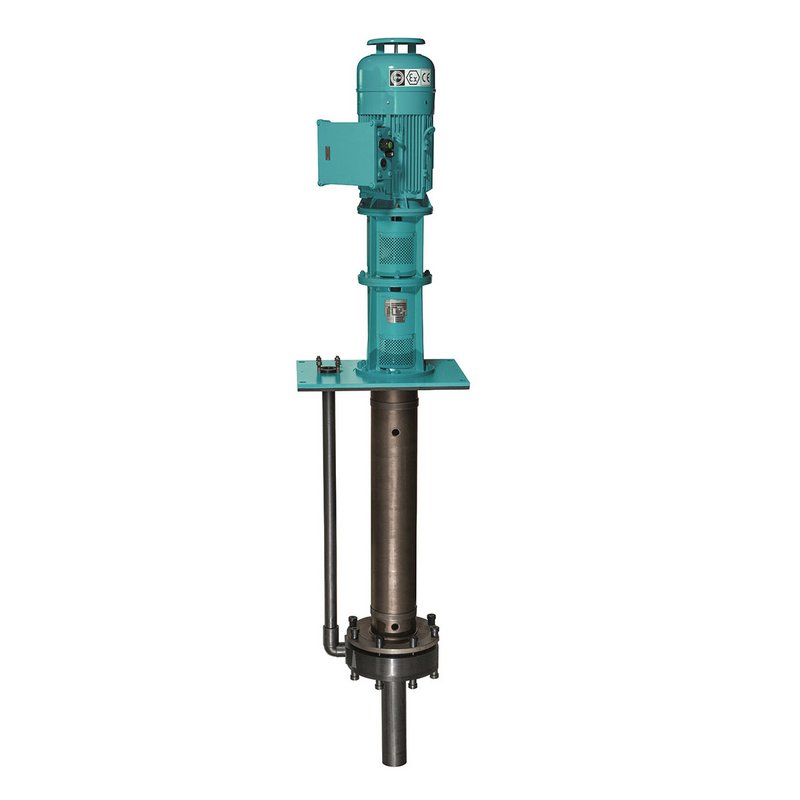 Technical characteristics
Single-stage radial centrifugal pump in vertical design for wet installation
Pump casing with impeller submerges in the fluid
Suspension pipe rubberised or Halar®-coated
Thick-walled, replaceable plastic components, optionally also conductive
Brief dry-running possible, because no mechanical seal required
Type VKPF: Shaft bearing in protected, non-submerged location
Type VKP: Intermediate bearing in submerged range with internal or external flushing

The vertical chemical pump made of plastic for wet installation is also available as smaller version VKPF 25-160.
Flow rate
0.5 to 800 m³/h
Total head
up to 90 m
Installation depth
up to 1.5 m with cantilevered shaft (type VKPF)
up to 8.5 m with intermediate bearing (type VKP)
Main materials and application limits
UHMW-PE
up to 90 °C
PP
up to 95 °C
PVDF
up to 115 °C
Directive 2014/34/EU (ATEX)
Equipment group
II
Equipment category
2G
Temperature class
T3